Leader Electronics to Address 'The Challenges of Hybrid SDI and ST 2110 for Live OB Production'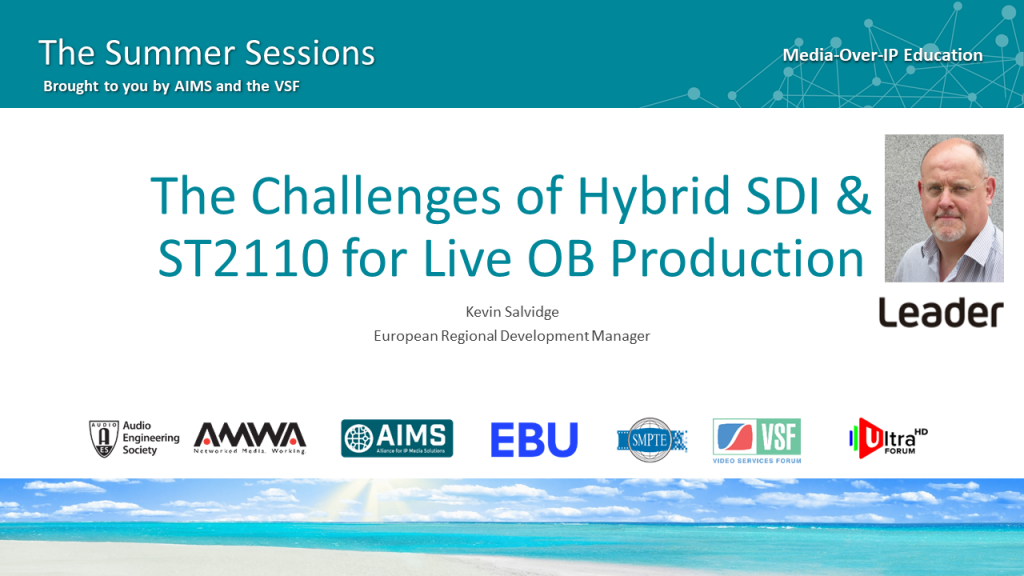 London, UK – Kevin Salvidge, European Regional Development Manager, Leader Europe, will address 'The Challenges of Hybrid SDI and ST 2110 for Live OB Production' in an upcoming IP Showcase 2020 Summer Session (Media-Over-IP Education) presentation.
AIMs and the VSF, in cooperation with the AES, AMWA, EBU, SMPTE, and the Ultra HD Forum, have created 15 weekly sessions. Each is delivered by an industry specialist in media-over-IP workflows. The series is designed to meet the need for ongoing education in the absence of major trade shows. Emphasis is on use cases and supporting technologies.
"As broadcasters transition to live HDR productions using SMPTE ST 2110, many are faced with the need to integrate existing fully-functional SDI-based equipment into hybrid SDI and IP workflows," Kevin Salvidge comments. 

"For these technologies to work together smoothly, they need to be synchronized to a common reference and adjusted to deliver coherent HDR image profiles. Our presentation will cover the technical requirements for hybrid SDI/ST 2110 productions, explaining the tools that are needed to setup, test and monitor multiple devices, as well as providing insight into how multiple live productions have successfully deployed seamless hybrid workflows."
The presentation will be available from 5 pm BST on Friday August 14th via
http://www.ipshowcase.org/summersessions2020/
About AIMS
The Alliance for IP Media Solutions (www.aimsalliance.org) is a non-profit trade alliance that fosters the adoption of one set of common, ubiquitous, standards-based protocols for interoperability over IP in the media and entertainment, and professional audio/video industries.
About VSF
The Video Services Forum (www.vsf.tv) is an international association comprising service providers, users and manufacturers dedicated to interoperability, quality metrics and education for media networking technologies. VSF's activities include providing forums to identify issues involving the development, deployment, operation, and security of media networking technologies; promoting interoperability by contributing towards the development of Standards
About Leader Electronics Corporation
Leader Electronics Corporation (www.leader.co.jp/en) has earned a worldwide reputation for designing and manufacturing highly reliable, practical and cost-effective test and measurement instruments. Leader products are specified for research, development, broadcast, production and service applications. Manufacturing quality is built in every step of the way. Less than 0.1% of all Leader products made are ever returned for warranty repair or adjustment.
The Leader product range includes award-winning 3G/HD/SD SDI waveform monitors and rasterising test instruments with customisable layout. Among available options are 4K/UHD, CIE color chart, HDR measurement, test pattern generation, eye and jitter measurement and closed caption display, IP and 12G-SDI. Leader has helped many customers manage their transition from analog to digital, from SD to HD, from HD to 4K/UHD, from SDR to HDR and from BT.709 to BT.2020 wide color gamut. Leader also provides dependable support for the transition from SDI to IP.
Contacts for further information
David Kirk, Stylus Media Communications
+44 (0)1342 311 983 | stylusmedia@gmail.com
Kevin Salvidge, Leader Europe
+44 7826 178 752 | salvidge@leadereurope.com
Leader Europe Limited, 6th Floor, First Central 200, London NW10 7FQ, United Kingdom.+44 7826 178 752 or +44 7552 236 162
www.leadereurope.com | Twitter: @LeaderEurope
Leader Electronics Corporation, 2-6-33 Tsunashima-Higashi, Kohoku-ku, Yokohama 223-8505, Japan+81-45-541-2123 | sales@leader.co.jp |