2020.04.01(Wed)
Press Releases
Leader Electronics Introduces Colorimetry Zone Options for LV5600 Waveform Monitor and LV7600 Rasterizer
Accompanying image shows the new colorimetry zone option in Off and On modes. In the latter case, chroma signals exceeding the permitted gamut are shown in false color.
Leader Electronics has developed new options for the LV5600 waveform monitor and its LV7600 equivalent rasterizer. Designated LV5600-SER31 and LV7600-SER31 respectively, these allow operators to check chroma levels beyond the BT.709 or DCI-P3 gamut.
The new feature simplifies the task of identifying the reproduction errors which can occur when transmitting video content produced in BT.709, DCI-P3 or BT.2020 wide color gamut or when converting content from BT.2020 to narrow color gamut. With the colorimetry zone feature switched on, chroma signals exceeding the legal gamut are made immediately apparent using a false-color substitute.
Introduced in 2018, Leader's LV5600 is a mains-powered SDI/IP waveform monitor in a compact half-rack width 3U desktop chassis with a touch-screen front panel display. It provides all the facilities needed to seamlessly monitor UHD/HD/SD SDI as well as video over IP signals. The LV5600 includes a broad set of engineering-related features including test pattern generation, eye pattern display, jitter measurement, closed-caption monitoring, CIE color chart, high dynamic range measurement, focus assist, customizable screen layout, tally interface, 4K/UHD operation, 10G IP input and 12G-SDI interfaces. SMPTE 2022-6, SMPTE 2022-7 and the recently published SMPTE 2110 protocols are all supported. The LV5600 also incorporates Leader's intuitive CINEZONE and CINELITE which are familiar to many content production staff.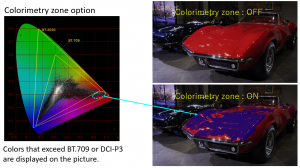 The LV7600 rasterizer offers the same capabilities as the LV5600 but in a low-profile 19 inch 1U form-factor for easy rack or desk mounting.
Contacts for further information
Leader Electronics Corporation, 2-6-33 Tsunashima-Higashi, Kohoku-ku, Yokohama 223-8505, Japan
Tel: +81-45-541-2123
Email: sales@leader.co.jp
Web: www.leader.co.jp/en
Press information:
David Kirk, Stylus Media Communications
Tel: +44 (0)1342 311 983
Email: stylusmedia@gmail.com
Web: www.stylusmc.com