2020.09.21(Mon)
Press Releases
Panavision LINK HDR On-Set System Employs Leader LV5350
Fort Lee, NJ, September 21st, 2020 – With high dynamic range rapidly becoming the new production standard, filmmakers need the proper tools to make the most of it both creatively and technically. Fueled by the talent and technology leadership at Panavision and Light Iron, Panavision's LINK HDR addresses the challenge of viewing HDR images throughout the production and post-production processes, bringing HDR and SDR viewing options to clients in tandem at every stage of the imaging chain.
Panavision's LINK HDR On-Set includes a plug-and-play mobile village system optimized to bring familiar post-production-quality HDR images right on the set. With its unique modular design, the system can be configured for large and small monitors, with several customizable footprints.
Leader's LV5350 waveform monitor, which is included as part of the Panavision LINK HDR On-Set system, allows productions to measure values even beyond the capabilities of their HDR reference monitors. The powerful HDR CINEZONE function enables cinematographers to quickly see which values are above SDR and determine in the moment how they want to creatively address those areas of the frame.
Only with the Panavision LINK HDR and Leader LV5350 waveform monitor can cinematographers, directors and editors leverage the ability to view their images throughout the imaging chain in the same HDR format delivered to consumers, eliminating the guesswork and providing absolute confidence from production to delivery.
The LV5350 waveform monitor incorporates a wide range of production-related features such as PQ, HLG and SLOG3 HDR measurement; a CIE chroma chart for color space issues; focus assist; simultaneous SDR and HDR monitoring; customizable screen layout; a tally interface; and support for 4K/UHD, 12G and 6G-SDI. LV5350 can also be rackmounted and operated on AC or DC power.
Integral to the LV5350 are Leader's intuitive CINEZONE and CINELITE features which are used by many digital image technicians and directors of photography. The Focus Assist feature enables precise focus detection using a new algorithm optimized for high resolution images across a very wide range of image contrast levels. The LV5300 waveform monitor offers the same capabilities as the LV5350 but also includes an eye pattern display with jitter measurements.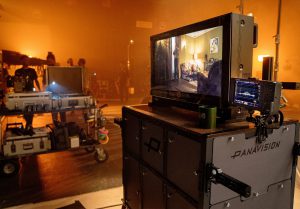 About Panavision
Panavision is the world-class provider of end-to-end solutions that power the creative vision of filmmakers. Panavision's comprehensive offerings include unparalleled optics, proprietary camera and lighting systems, and state-of-the-art post-production services. Driven by a passion for collaborative innovation, Panavision provides the content creation industry with the highest standard of quality and service.
Panavision's portfolio includes the renowned brands Light Iron, Panalux, LEE Filters, Direct Digital and Island Studios. For more information and locations worldwide, visit Panavision.com.
Sales enquiries
Pete Anderson, Leader Instruments Corporation
Tel: +1-201-355-4850 x106
Email: anderson@leaderamerica.com
Leader Instruments Corporation, 2125 Center Avenue, Suite 407, Fort Lee, NJ 07024 USA
Tel: +1-201-355-4850
Email: info@leaderamerica.com
Web: www.leader.co.jp/en
Leader Electronics Corporation, 2-6-33 Tsunashima-Higashi, Kohoku-ku, Yokohama 223-8505, Japan
Tel: +81-45-541-2123
Email: sales@leader.co.jp
Web: www.leader.co.jp/en