2021.03.24(Wed)
Press Releases
Video Assist Hungary Chooses Leader LV5350 4K WCG HDR Production Monitor
Geared for ultra-high-definition wide-color-gamut high-dynamic-range video content creation and post production, the LV5350 provides a broad range of test and measurement features in a compact footprint.
LV5350 4K WCG HDR production monitor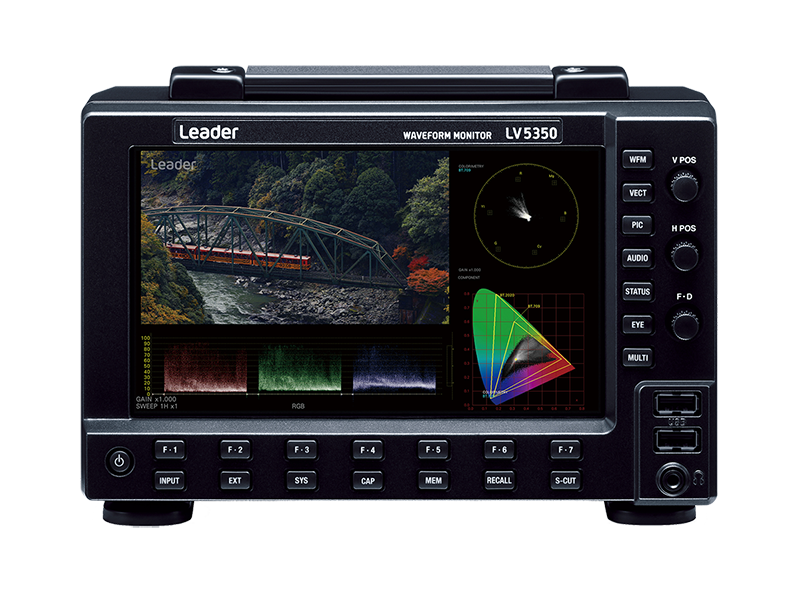 Budapest, Hungary, March 22nd, 2021 – Video Assist Hungary, one of central Europe's most active media service providers, has invested in a Leader LV5350 waveform monitor as part of its expansion into 4K HDR video mastering, color grading and post production. Supplied by Leader channel partner Thameside.tv, the new instrument will also be offered as part of the company's growing HDR rental fleet which is available both for outside broadcast content capture and in-studio finessing.
"We have been using Leader test instruments very effectively for over 10 years, all of them purchased via Thameside," says Balázs Rozgonyi, Video Assist Hungary CEO. "They enable our operators to make reliable and repeatable measurements quickly and easily. They also combine the multifunction toolset and robust build which are essential when working on location. The LV5350 is an ideal reference for camera crews shooting in 4K, ensuring that content is in perfect focus and correctly color balanced right at the start of the production process. It also contains all the tools needed during post to ensure the end result conforms to the precise standards required for terrestrial and satellite broadcasting as well as latest-generation 4K WCG HDR video-on-demand."
"Video Assist Hungary has proved a loyal customer for over more than 20 years and has achieved great success with Leader test equipment," adds Chris Margrave-Gregory, Senior Broadcast Sales Specialist at Thameside.tv. "4K HDR is now the dominant standard for TV sets in the consumer market throughout the world which is in turn accelerating demand for content that allows these displays to perform at their best."
"4K WCG HDR has advanced from being a niche element of TV production to the point where it is now the default standard required by the major OTT service providers when commissioning new content," comments Kevin Salvidge, Leader's European Regional Development Manager. "The LV5350, like all instruments in our ZEN series, incorporates the full toolset needed for production studios, OB service providers and post houses catering for this rapidly expanding market."
Leader's ZEN series LV5350 waveform monitor incorporates a wide range of production-related features such as PQ, HLG and SLOG3 HDR measurement; a CIE chroma chart for color space issues; focus assist; simultaneous SDR and HDR monitoring; customizable screen layout; a tally interface; and support for 4K/UHD, 12G and 6G-SDI. The LV5350 can be used standalone or rack-mounted and operated on AC or DC power. Integral to the instrument are Leader's intuitive CINEZONE and CINELITE features which are used by many digital image technicians and directors of photography. The Focus Assist feature enables precise focus detection using an algorithm optimized for high resolution images across a very wide range of image contrast levels. The LV5300 offers the same capabilities as the LV5350 but also includes an eye-pattern display with jitter measurements.
About Video Assist Hungary
Founded in 2007 by video operator and DIT Balazs Rozgonyi, Video Assist Hungary (www.videoassist.hu) offers a wide range of services encompassing studio and on-location video and audio production, post production and effects previsualization. It also offers equipment for dry-hire and wet-hire as well as a full system design resource. The company, along with the rental group Vision Team, has covered the Hungarian market in both foreign service productions and local jobs.
About Thameside
Thameside.tv (www.thameside.tv) was established in 1994 and is a totally independent supplier of broadcast and digital film production equipment. A Leader specialist distributor since 2004, Thameside.tv has supplied and installed complete digital intermediate facilities both in the UK and overseas. Thameside.tv also provides complete asset disposal programmes and evaluations as well as system design and integration services.
Contacts for further information
David Kirk, Stylus Media Communications
Tel: +44 (0)1342 311 983 | Email: stylusmedia@gmail.com
Balázs Rozgonyi, Video Assist Hungary
Cell: +36 30 203 32 51 | Email: balazs@videoassist.hu
Chris Margrave-Gregory, Thameside.tv
Tel: +44 (0)1932 240 305 | chris@thameside.tv
Kevin Salvidge, Leader Europe
Cell: +44 (0)7826 178 752 | Email salvidge@leadereurope.com
Web: www.leader.co.jp/en | Twitter: @TestLeader