2019.12.12(Thu)
Press Releases
TV3 Catalonia Upgrades to HD-HDR Production with Leader LV7300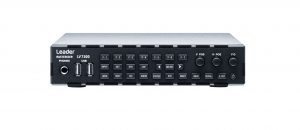 Catalonia's public broadcaster Catalan Audiovisual Media Corporation (Corporació Catalana de Mitjans Audiovisuals or CCMA) has chosen Leader's LV7300 rasterizer as the master reference instrument as part of an upgrade to HD-HDR at its Audiovisual Production Centre in Barcelona. The CCMA's primary channel is TV3 Catalonia which is transmitted to viewers in Catalonia, Andorra and the Balearic Islands.
Supplied by Leader distribution partner SetUp Electrónica, the LV7300 will be used to check video and audio signal quality in a newly equipped studio equipped to support 4K, HD and super slow motion. The studio's primary role will be to create high quality HD-HDR content, future-proofing the CCMA's broadcast resources and confirming the corporation's commitment to supporting the Catalan language and culture.
"We are sourcing from 4K-native Sony cameras with SMPTE-2110 IP connectivity and ITU-R BT 2020 color gamut, enabling use to create very high quality productions in HD-HDR and at high frame rate. This will allow us to capture images with very rich colors, greater than ever contrast and high detail," says TV3 Area of Exploitation director Ramon Sangrà.
"Leader's LV7300 rasterizer gives our operators all the tools they need to ensure that these enhancements are carried right through the production process from capture, post and archiving to actual transmission. The instrument's ability to handle 4K helps to safeguard our investment as the broadcast industry embraces ever higher standards."
The LV7300 rasterizer and its equivalent LV5350 waveform monitor incorporate all the SDI facilities of the top-of-the-range LV5600 and LV7600 minus the IP measurement capabilities which are currently required by only a minority of production and post-production teams. These include engineering-related features such as test pattern generation, closed-caption monitoring, CIE color chart, high dynamic range measurement, focus assist, configurable screen layout, tally interface, 4K/UHD operation and 12G-SDI interfaces.
Also incorporated in the LV7300 and LV5350 are Leader's CINEZONE and CINELITE. These are designed for intuitive use by camera crews, editors and colorists. A focus detection algorithm enables the two instruments to sense edges across a very wide range of image contrast levels.
About TV3 Catalonia
TV3 (Televisió de Catalunya) (www.ccma.cat/tv3) is committed to offering its viewers socially relevant and quality programming with its well-earned reputation of maintaining high moral and ethical standards while supporting and promoting the Catalan culture and language, encouraging innovation and creativity, and making full use of multiple resources and all available platforms. TV3 is part of Corporació Catalana de Mitjans Audiovisuals, the leading communications group in Catalonia. It operates under the aegis of the Catalan parliament and is financed both through public funding and advertisement revenue. For nine years running, TV3 has been the channel most widely-viewed by Catalan audiences. In the last year it obtained the largest audience share in six years, outranking other generalist TV channels which broadcast throughout Spain.
About Setup Electrónica
With offices in Madrid and Barcelona, Setup Electrónica (www.setup-electronica.es) offers a range of products and services across the electronic and telecommunications sector. These include equipment distribution, maintenance and calibration as well as system design consultancy. The company also offers technical training relating to test and measurement including the organisation of seminars.
About Leader Electronics Corporation
Leader Electronics Corporation (www.leader.co.jp/en) has earned a worldwide reputation for designing and manufacturing highly reliable, practical and cost effective test and measurement instruments. Leader products are specified for research, development, broadcast, production and service applications. Manufacturing quality is built in every step of the way. Less than 0.1% of all Leader products made are ever returned for warranty repair or adjustment.
The Leader product range includes award-winning 3G/HD/SD SDI waveform monitors and rasterising test instruments with customisable layout. Among available options are 4K/UHD, CIE colour chart, HDR measurement, test pattern generation, eye and jitter measurement and closed caption display, IP and 12G SDI. Leader has helped many customers manage their transition from analog to digital, from SD to HD, from HD to 4K/UHD, from SDR to HDR and from BT.709 to BT.2020 wide color gamut. Leader also provides dependable support for the transition from SDI to IP.
Contacts for further information
David Kirk, Stylus Media Communications
+44 (0)1342 311 983 | stylusmedia@gmail.com
Kevin Salvidge, Leader Europe
+44 7826 178 752 | salvidge@leadereurope.com
Leader Europe Limited, 6th Floor, First Central 200, London NW10 7FQ, United Kingdom.
+44 7826 178 752 or +44 7552 236 162
www.leadereurope.com | Twitter: @LeaderEurope
Leader Electronics Corporation, 2-6-33 Tsunashima-Higashi, Kohoku-ku, Yokohama 223-8505, Japan
+81-45-541-2123 | sales@leader.co.jp | www.leader.co.jp