MULTI SDI MONITOR
LV 5333
Compact, lightweight, and low power consumption portable type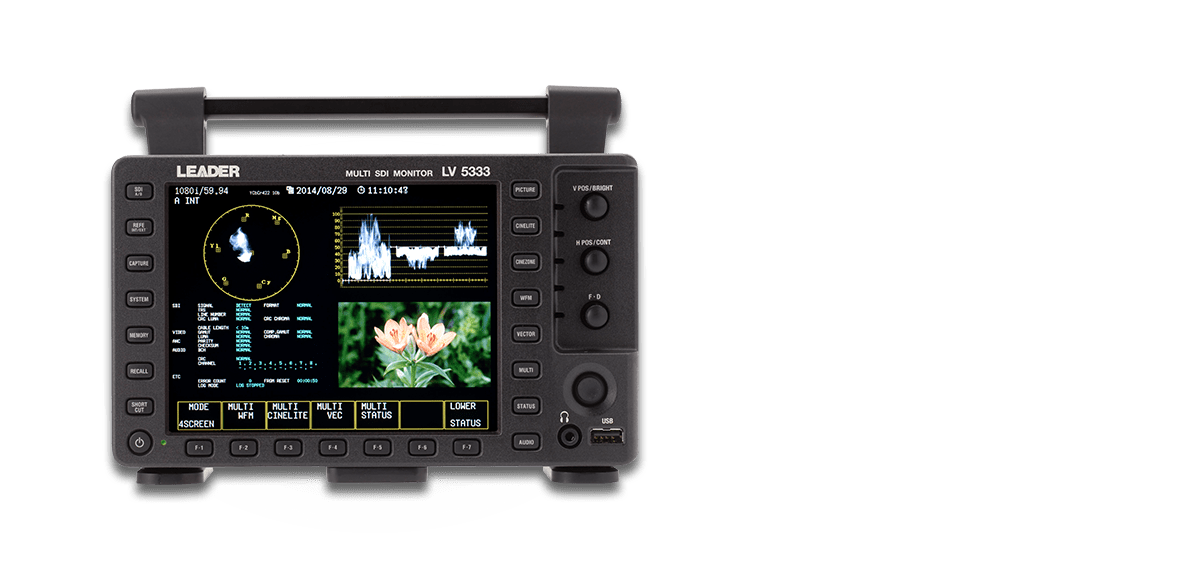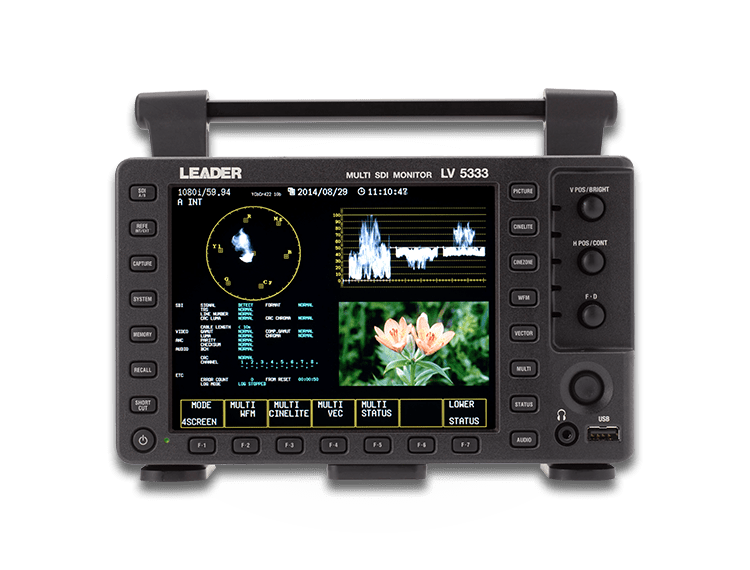 LV 5333 MULTI SDI MONITOR
MULTI SDI MONITOR
LV 5333
General

Option

Download
LV 5333 Waveform Monitor is a powerful, versatile video production tool that is compact and portable. LV 5333 has a high quality TFT LCD screen which produces high quality picture images. Waveform, Vector, Audio, Status and 5 Bar gamut displays are all included in this precision instrument. These can be displayed full screen or in various multi-display combinations. LV 5333 can also display the levels of an embedded audio signal. Plus, Cable Length, External Phase Difference, and Field Frequency Deviation measurements are standard along with CINELITE® II. Now with HD HDR monitoring as an option, the LV 5333 can be carried as a portable unit or rackmounted for studio or flypack use.
Features
3G, HD, SD-SDI Inputs and Outputs
Two 3G, HD, SD-SDI inputs are available. The SDI signal of the selected input (A or B) is serially re-clocked and then output from the SDI output connector.
TFT LCD
The LV 5333 is equipped with a 6.5 inch XGA (1,024×768) color TFT LCD.
Standard Equipped CINELITE II and CINELITE Advanced
CINELITE makes it easy to see and manage the luminance levels of specific points on the set. CINEZONE uses false colors to allow the user to check the luminance distribution across the whole picture at a glance. It can also be used to quickly check and see if a green screen is lit properly. CINELITE Advanced makes it possible to synchronize measurement levels on the picture with the waveform and vectorscope displays.
Equivalent Cable Length Measurement
The attenuation of the input SDI signal is displayed in terms of a 75 Ω coaxial cable length. This can be used to check the transmission system margin.
Frequency Deviation Measurement
The deviation in the SDI signal sampling frequency can be measured. This can be used to verify deviations in the field frequency and frame frequency.
Stereo Headphone Output and Digital Audio Output
LV 5333 can separate embedded audio from the SDI signal and output two selected channels in stereo to the mini jack headphone connector and digital audio BNC connector.
Time Code Display
The LV 5333 can decode SMPTE ST 12-2 ANC time codes (LTC or VITC) and SMPTE ST 266 time codes (D-VITC) and display them. These can be used as timestamps in event logs.
Screen Capture
The displayed picture and information on the screen can be captured and recalled. Recalled captures, such as the vector or waveform displays can be used to match cameras. Captures of the picture display can be saved and recalled for assistance with scene continuity or to document a shot. A USB memory device can be used to store screen captures as BMP files that can be viewed on a PC.
Preset Settings (30 Settings -which can be labeled on screen)
Remote Connector (for contact closure operation)
Ethernet Port (web server is included)
Tripod and VESA Mounting
Power Supply
The LV 5333 is equipped with a 4 pin XLR DC input connector. Runs of 12 VDC power.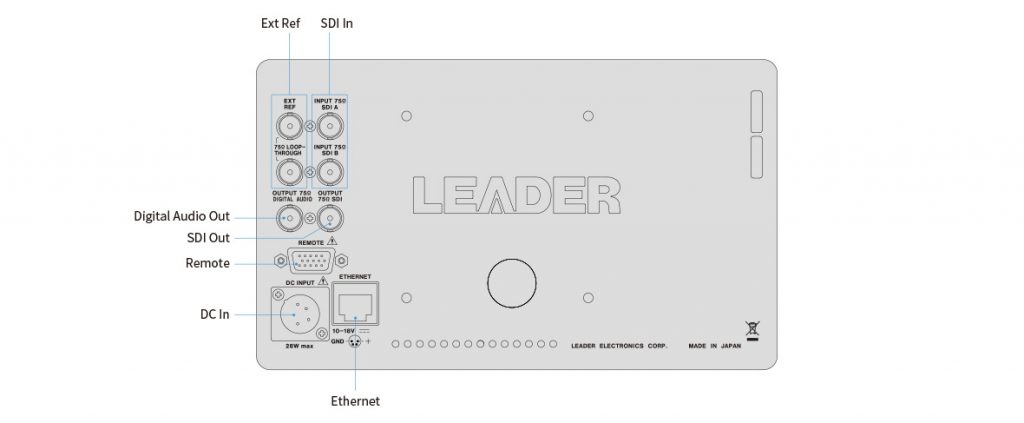 LV 5333OP70/LV 5333OP71 Battery Mount
As a factory option, a battery adapter V mount (LV 5333OP70) or battery adapter QR gold mount (LV 5333OP71) can be attached. This makes it possible to run the LV 5333 using a battery for video cameras and the like.
* If a battery adapter is attached, the 75 mm VESA compliant mounting holes cannot be used.
LV 5333SER02 HDR Support Option (License Option)
This function is used to evaluate HDR video signals using picture displays and waveform displays. On the picture display, you can use the HDR CINEZONE display, which adds color the HDR area according to the brightness, in order to easily check the brightness distribution. Further, on the waveform display, you can manage video signal levels including the HDR area using HDR scaling.

HDR CINEZONE display

HDR waveform display

SPU41A-105 AC Adapter
An AC adapter, sold separately, is also available, so commercial AC power can also be used.
Login to My Leader is required to download some technical information.
If you have my Leader account, please login from below, if you do not have an account, please create an account and login to my Leader.